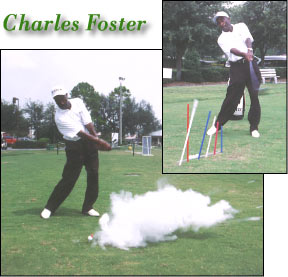 Charles Foster is a talented professional golfer who combines a liking for people and his skills at golf, caricature art, and close-up magic into a highly entertaining and informative golf clinic.

He studied commercial art at Meinsinger Art School in Detroit and developed into a talented caricaturist. Foster also became interested in magic and studied under Jeff Hobson, one of the country's leading professional magicians. His artistic skills and magic combined with golf led to eleven years as National Golf Clinic Representative for Lynx Golf, Inc.

Golf entered Charles Foster's life in 1965. He became a steady winner in Michigan amateur tournaments. Turning professional in the 1970's, Foster attended numerous PGA schools and seminars, and played extensively throughout the U.S. and Canada. He also studied under "gurus" such as Bert Yancy, Irv Schloss, and Joe Norwood. He also played in an all-black tournament circuit in the South and Midwest with players like Lee Elder, Pete Brown and Chuck Thorpe. As a golf teacher, he gained experience as an assistant golf professional under PGA professional Ben Davis at Rackham Gof Club, Huntington Woods, Michigan.

Today, Foster conducts his fun-filled, varied, and informative Charles Foster Golf Show at courses throughout the country. Charles Foster's program includes trick shots, instruction, audience participation, and one-on-one instruction, all crammed into delightful clinic sessions.